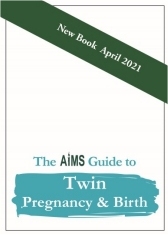 Reviewed by Lucy Bennett
Publisher: AIMS
The AIMS Guide to Twin Pregnancy and Birth should be a go-to read for those who are expecting multiples as well as for maternity professionals who seek to support multiple births. I went into this book with a fairly thorough understanding of the anatomy and physiology of singleton birth but a ridiculously basic understanding of twin pregnancy and birth. I understood the difference between identical and non identical twin pregnancies, however I never knew that you could have more than one amniotic sac or placentas. This is just one of the many things that I learn that we should all know!
From what I have seen so far during my doula journey, the language around, attitude to and view of the pregnancy and birth of multiples is extremely negative and scaremongering. This includes people's expectations of twin birth as well as how parents will cope with the prospect of raising multiples. The AIMS Guide to Twin Pregnancy and Birth doesn't do this. It provides information in a nonbiased, non-scaremongering, non-judgemental way which I would like to not only applaud but encourage more in further maternal texts, especially those surrounding multiple births. This is even discussed in the book as a topic of conversation: The concept that people can be intentionally and non-intentionally scaremongering in their language or approach. Faults in the system are addressed, not ignored!
The way that the information is presented is so accessible in so many ways, and supports different learning styles.. The author, Rebecca Freckleton, translates complex medical jargon into bitesized, digestible, simple language, including statistics that are there to state facts in a way that is straight talking and to the point. There are visibly accessible resources like tables, graphs and diagrams to clearly display statistics, the positioning of the babies, internal anatomy and so on.
An example of when these various formats have been beneficial to my learning is that the different types of twin pregnancies are colour coordinated. Therefore, if the reader only needs information on a certain situation it is easily picked out of a longer piece of prose.
These different options for consuming information means that people who struggle with large academic texts can find what they need with ease, referring to this book as a quick reference guide to answer burning questions. At the end of each chapter, and as a huge list at the end of the book, there is a myriad of reliable, evidence based resources and sign posts with information, contacts, support systems and further research. There is also an appendix which includes definitions of birth professionals' roles and responsibilities as well as specialist hospitals that support multiple births.
I have noticed that a lot of maternity books are quick to lay out all of the symptoms you may experience but then not address how they can be supported or eased. The AIMS Guide to Twin Pregnancy and Birth doesn't just lay out symptoms and compare it to that of 'singletons' but also clearly shows solutions or remedies for the pregnant woman or person to try.

Another key thought that stuck out in my mind in terms of what I know about twins is that I know of incidences where one of the babies is stillborn and I wondered if and how the book would address the topic of baby loss. Thankfully, the book has a whole section on this topic, addressed with the greatest sensitivity but also acknowledging that there are other books and resources that would have a deeper, more thorough conversation and I greatly respected AIMS for that.
Overall, I would thoroughly recommend this book to anyone but especially birth professionals! I have read thirteen books from AIMS and will continue to buy anything they publish. It is great knowing that by buying from their website, it is going directly to a great cause as well!
Lucy Bennett
@informedbodies on Instagram
Email: lucythedancingdoula@gmail.com