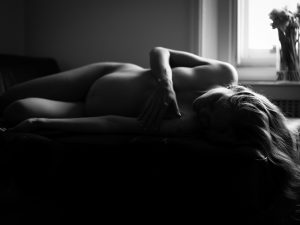 Bodies and baby bumps have always been a part of my life. I grew up in London in the 70's with both my parents practicing yoga teachers. Our house was always full of anatomy charts, perineum herbs and circles of pregnant women exhaling, and I witnessed my first birth at the age of 9. My mum, founder member of the Active Birth movement, was and still is teaching women about birth and breathing. I went into the family business at the age of 18, and learned pregnancy massage in the hills of Thailand, which I still practice to this day. It has given me a deep understanding of how to relax pregnant women, and make them comfortable.
Alongside my career as a massage therapist, I have always worked as a figurative fine artist. The combination of my parallel careers in pregnancy massage and the visual arts has come together perfectly in my pregnancy photography. My traditional fine art training involved a lot of life drawing and sculpting of the human form, and I always view these pregnancy photos in the same vein – looking at composition, perspective and continuous lines. I love working with natural light to create a fine art aesthetic, images that speak of the old masters, highlighting the beautiful silhouette created by a baby bump. Bodies fascinate me, especially when they are in the extraordinary process of creating another human being.
Most of my clients are photographed after 28 weeks, and clothed or nude many of them are initially apprehensive about being in front of the camera. First we sit down and discuss preferences and very quickly they see that the shoot is a collaboration, and their ideas and input is crucial to capturing the beauty of this fleeting time. The photos are taken in the comfort of the clients home, which as well as being convenient, adds to the feeling of relaxation, and gives us access to any props or outfits they might like to use. I've worked in a a wide range of homes all over London, from tiny flats in Ladbroke grove to huge houses in Hampstead, and all we need are windows and natural light. The shoot usually lasts around and hour and a half and is so much fun. I love seeing clients nerves drop away as we explore available light and get into the rhythm of the shoot. The edit is always full of nice surprises and although I don't edit heavily, it is a big part of the creative process. Within about a week the client is sent around 15 edited files and a private online gallery. The response I always get is that they are so happy that they decided to have them done, and will treasure the photographs forever.
To find out more about Sarah Stirk visit her page on the Nurturing Birth Directory.
Click here for other pregnancy, birth and newborn photographers